TruGolf Vista 10 Simulator is OPEN ALL WINTER:
Wednesday through Sunday from 10:00 AM to Close
Play on any or all of the 27 – 18 hole Golf Courses from around the world.
You can come out and play or practice by yourself or play 18 holes and split the cost with your group.
Call the Clubhouse to reserve your tee time…715-289-4653.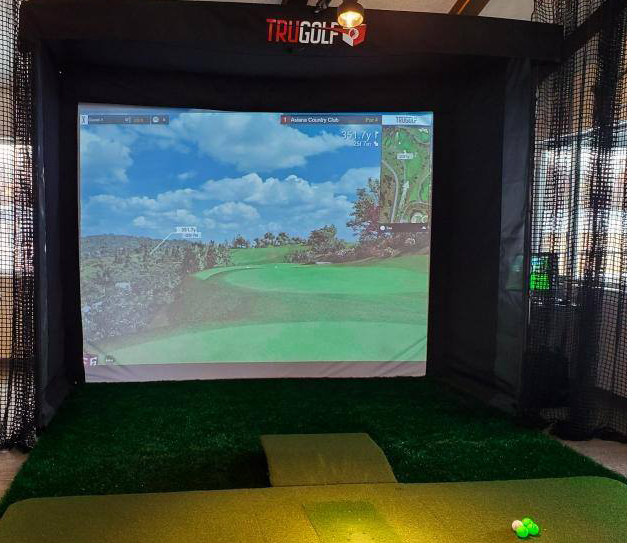 Cost
1/2 Hour                 $20.00
  1 Hour                  $35.00
1-1/2 Hours           $50.00
  2 Hours                $65.00
( cost is for 1 or split the cost with 2, 3 or 4 players )
Indoor Golf Simulator
Our TruGolf Vista 10 Golf Simulator has the latest cutting-edge hardware and software for a complete golf simulation experience from tee to green…including Course Play, Club Fitting, Driving Range, Pitching, Chipping and Putting Range.
Statistics
TruGolf technology provides in-depth instant feedback, including: Club Path, Club Face, Ball Speed, Launch Angle, Club Head Speed and More. TruGolf's measuring technology enables accurate simulation of Ball Carry, Landing, Roll and Interaction with course. The user can adjust the time of the day, weather conditions, course conditions and more to create the most realistic golf simulation experience.
TruTrack Technology
The TruTrack Technology captures critical data, as it happens, at the point of impact. There are 3 rows of sensors (30 sensors total)
that measure your club path and clubface angle during impact. After every shot, it analyzes and shows you the information instantaneously, on a clear, easily understood Swing Analysis screen. It features a Real-Feel Golf Mat. This golf mat lets you swing down and through…giving you the most realistic practice possible. It also helps improve ball sticking by providing real feedback on club-turf interaction.