WPG History
Whispering Pines is a beautiful 18 hole golf course located approximately 12 miles east of Eau Claire, Wisconsin on Highway 29 and 1 1/2 miles west of Cadott on County Trunk X.
Cadott's Whispering Pines Golf Course just seems to be getting better and better as the years come and go. Be certain to bring all the clubs in your bag. Three of the four par fives for all practical purposes are unreachable in two, unless you typically hit a 300 yard drive and a 300 yard second shot. These are legitimate par fives. The par 3's require a 3 to 5 iron, depending on the direction of the wind no easy holes here. In addition, the course has its share of 400 yards plus par fours if you want to play the back tees. Between the water on many holes and the tight fairways on the others, this track is only going to get better with age. Most of the holes have large landing areas for your drives, but the greens are strategically located within groves of trees.
Both nines were designed by Dr. Gordon Emerson in 1987 but construction on the original nine which is the current back nine, began that year. The present day front nine of the eighteen holes was built in 1995. Gordy has created a course that takes advantage of the wealth of physical features that naturally occur on the land. Water comes into play on nine of the eighteen holes and definitely is the dominant feature. Subtle terrain changes, stands of mature oaks, maples, of course pines, as well as some open holes which bring the wind into play, make for an interesting trip around the nearly 6700 yard layout. Gordy admits that this is probably his favorite design.
The WPG Investments group of partners have all grown up in Cadott and include: Luke & Deidra Rykal, Todd & Amy Rykal and Tony & Terri Roscoe, along with Jarod & Katie Leslie, Jim & Kirsten Dzienkowski, Gary & Donna Rykal and Jim & Sandy Buetow. They all shared a new vision for the clubhouse. They worked tirelessly for weeks doing a complete makeover inside and outside the clubhouse. There is a new bar, new flooring, new windows, doors, new bigger TV's and many other new and exciting renovations. Another thing the group wanted to do is to offer an extended food menu, so they installed a new kitchen and menu which includes homemade pizzas, chicken wings, burgers, fries, sandwiches and many appetizers. The group's plans are to continue to make necessary updates to the clubhouse, course and staff to fulfill the ultimate experience for each and every customer.
Beginning in 2021, the holes were switched back to the way the course was intended to be played when it was designed and built. The new investment group had the insight that this should speed up play, allow for a more traditional start to your round and finish up on hole 18 which is just off the deck on the clubhouse, which is great for spectator viewing at big tournaments and in everyday league play.
Our Mission at Whispering Pines Golf Club is to provide excellent golf course and club house conditions centered on all our members, customers and guests…and to put a focus on a family centered golf experience that meet or exceeds the expectations of all members, customers and families that we serve each and every day.
Owners – Luke & Deidra Rykal, Todd & Amy Rykal, Tony & Terri Roscoe, Jarod & Katie Leslie, Jim & Kirsten Dzienkowski, Gary & Donna Rykal, Jim & Sandy Buetow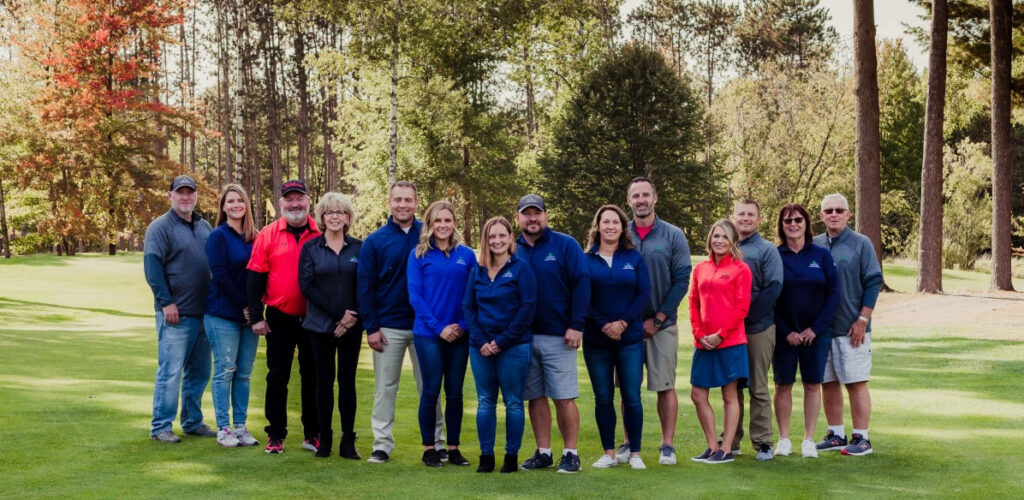 Course Superintendent – Dean Wojtczak
Clubhouse Manager – Kayla Poppe